What is KYBELLA® (deoxycholic acid) injection 10 mg/mL ?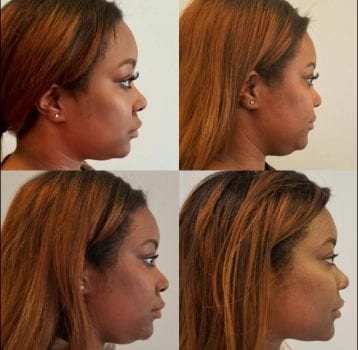 KYBELLA® is a prescription medicine used in adults to improve the appearance and profile of moderate to severe fat below the chin (submental fat), also called "double chin."
It is not known if KYBELLA® is safe and effective for use outside of the submental area or in children less than 18 years of age.
The active ingredient in KYBELLA® is synthetic deoxycholic acid. Deoxycholic acid is a naturally occurring molecule in the body that aids in the breakdown and absorption of dietary fat. When injected into the fat beneath the chin, KYBELLA® destroys fat cells, resulting in a noticeable reduction in fullness under the chin. Once destroyed, these cells can no longer store or accumulate fat, so further treatment is not expected once you reach your desired aesthetic goal. How is KYBELLA® administered?
Treatment can only be administered by a KYBELLA®-trained healthcare specialist. At each treatment, you will receive multiple small injections under your chin, and the injection process takes about 15 to 20 minutes. The exact number of injections will depend on the amount of fat you have under your chin and your desired profile.
Will I need time to recover?
After KYBELLA® treatment, you will likely have some swelling, bruising, or numbness under your chin. Be sure to inform your healthcare professional if you develop an uneven smile, facial muscle weakness, or difficulty swallowing.
Before receiving KYBELLA®, tell your healthcare provider about all of your medical conditions, including if you:
Have had or plan to have surgery on your face, neck, or chin

 

Have had cosmetic treatments on your face, neck, or chin

Have had or have medical conditions in or near the neck area

 

Have had or have trouble swallowing

 

Have bleeding problems

Are pregnant or plan to become pregnant (it is not known if KYBELLA® will harm your unborn baby)

 

Are breastfeeding or plan to breastfeed (it is not known if KYBELLA® passes into your breast milk;

talk to your healthcare provider about the best way to feed your baby if you receive KYBELLA®)

Are taking any medications, especially blood thinners?
Welcome to a Healthy & Beautiful You!
We're dedicated to excellence, compassion and precision – three things that have taken us far in our practice. We pride ourselves in what we do for our patients.