The Vampire Breastlift® is a trademarked procedure performed by licensed, trained members of the American Cosmetic Cellular Medicine Association (ACCMA). Your platelet-rich plasma (PRP) is injected to restore fullness to the cleavage area.
The procedure is also effective in reducing stippling of the tissue overlying aged breast implants. The procedure does not enlarge the breasts to increase the cup size.
Are you a candidate for Vampire Breastlift?
Has your cleavage become flattened as the breast tissue has

begun to sag?

Has your breast skin become rippled and thin overlying your

breast implants?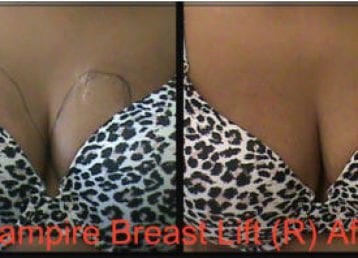 Welcome to a Healthy & Beautiful You!
We're dedicated to excellence, compassion and precision – three things that have taken us far in our practice. We pride ourselves in what we do for our patients.